Read Time:
5 Minute, 55 Second
Iconic movie characters of all time
We all love watching movies. Movies provide us a way to see life from somebody else's perspective. There are some characters in the movies which make the movie more Iconic with their breathtaking performance. Even some characters have the ability to change the whole mindset of a person . Some characters are so powerful that they become the whole reason behind the success of the movie. Not only the Protagonist but sometimes a movie becomes Iconic because of the Antagonist.
Lets talk about some famous movie characters which one can never forget.
1. THE JOKER
The Joker from 'The Dark Knight'
Being an Antagonist,  the Joker from 'The Dark Knight' gathered a lot of popularity by his stunning performance making him the most famous villain of the industry. 'Heath Ledger' has played the character and It is one of the finest comic book villains ever created. The pencil disappearing "magic -trick" will make a person surprised everytime he sees it. His smiling face became very popular among youngsters. Many started making tiktok videos adding to the popularity of the character. The song used for the smiling face is renowned french song "dernière danse".
2. James Bond
James Bond, Commander CMG RNVR is a fictional persona created by Ian Fleming, a British journalist and author, in 1953. He is the main character of the James Bond novels, films, comic books, and video games. Fleming wrote twelve Bond novels and two collections of short stories. You know his name , you know his number. He had been ruling the big screen for over 50 years, Agent " Double O Seven " will remain the most charismatic , charming and chivalrous spy to have ever existed.
3. Captain Jack Sparrow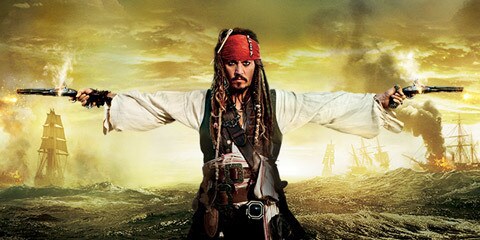 Captain Jack Sparrow is a fictitious character that appears in the Pirates of the Caribbean film series as the main protagonist. Screenwriters Ted Elliott and Terry Rossio devised the character, which is played by Johnny Depp. Sparrow's personality is based on a mix of Keith Richards of The Rolling Stones and Pepé Le Pew from the Looney Tunes cartoon series. He made his debut in the 2003 picture Pirates of the Caribbean: At World's End.
4. John McCIane
John McClane is the main protagonist of the Die Hard film series, which is based on Roderick Thorp's action novel Nothing Lasts Forever. Bruce Willis played John McClane in all five films, and he is famed for his witty one-liners, such as "Yippee-ki-yay, motherf***er."
John McClane was based on Roderick Thorp's bestselling 1979 novel Nothing Lasts Forever, which included the fictional character Detective Joe Leland. Other elements come from Walter Wager's 1987 novel 58 Minutes, in which Frank Malone appears (adapted as Die Hard 2).
5. Hannibal Lecter
Novelist Thomas Harris developed the character of Hannibal Lecter. Serial killer Hannibal Lecter consumes his victims. He was a well-known forensic psychiatrist before his arrest, and after his incarceration, FBI agents Will Graham and Clarice Starling turn to him for assistance in tracking down other serial killers.
In 1981, Lecter made his debut as a villain in Harris' thriller Red Dragon, which was transformed into the 1986 film Manhunter, starring Brian Cox (spelled "Lecktor"). The Silence of the Lambs (1988) included a larger part for Lecter, and Anthony Hopkins received the Academy Award for Best Actor for his performance in the 1991 film adaption. In the 2001 adaptation of the 1999 novel, Hopkins reprised his role. Hopkins played Lecter again in the 2001 version of the 1999 novel Hannibal, in which he eludes capture, and in the 2002 adaptation of Red Dragon.
Performance and Award Winnings
Hannibal Rising (2006), the fourth novel in the series, delves into Lecter's upbringing and growth as a serial killer. Gaspard Ulliel portrayed him in the 2007 film adaption. Mads Mikkelsen portrayed Lecter in the NBC television series Hannibal (2013–2015), which focused on his connection with Graham. Mikkelsen won the Saturn Award for Best Actor on Television for his performance.
The American Film Institute named Lecter, as played by Hopkins, the greatest villain in American cinema in 2003.
Entertainment Weekly 2010 voted the character one of the 100 greatest characters for previous 20 years. In 2019, Rolling Stone called Lecter, as played by Mikkelsen, the 18th best villain in television history.
6. Norman Bates
Norman Bates is a fictional character who appears as the major antagonist in American author Robert Bloch's 1959 thriller novel Psycho. He is a serial murderer with an alternate ego that takes the guise of his violent mother Norma, his first victim, and who operates the Bates Motel in his daily life.
Origin of Character
Perkins portrayed him in Alfred Hitchcock's 1960 film Psycho, as well as in the Psycho franchise. In Psycho (1998) remake, Vince Vaughn plays the role, and in the 2013–2017 television series Bates Motel, Freddie Highmore took the role. Norman is not the main enemy in Bloch's later novels. Unlike the Universal Studios franchise, and copycat killers replace him who assume Norman's identity after his death in Psycho II. There is widespread speculation that it is the story of famous murderer Ed Gein. Bloch subsequently said that the circumstances surrounding Gein's case motivated him more, and a thought "the man next door may be a monster undiscovered even in the gossip-ridden microcosm of small-town life" inspires him. Extent of Gein's atrocities became known years later. It surprises him that "how closely the imagined persona he had created resembled the actual Ed Gein both in overt act and apparent motivation."
7. Travis Bickle
Travis Bickle is a fictional character who stars as the protagonist in Martin Scorsese's 1976 film Taxi Driver. Paul Schrader, the film's screenwriter, developed the character. Robert De Niro, who was nominated for an Academy Award for his portrayal, plays him. Travis Bickle is a fictional character who is the protagonist of the 1976 film Taxi Driver directed by Martin Scorsese. Film's screenwriter Paul Schrader creates the character. Robert De Niro plays the character and received an Oscar nomination for his performance.
8. Forrest Gump
Forrest Gump, is a mentally and physically challenged young man whose mother nurtured him to believe he is just like everyone else. His mental deficiencies are often endearing to those around him, and he repeatedly finds himself in historically significant events, from the integration of the University of Alabama through the Watergate scandal's final hours. Forrest is polite and compassionate, offering affection and devotion to Jenny Curran, a childhood friend. Even though she is battling some terrible demons but he dedicates his life to her and protects her from harm.